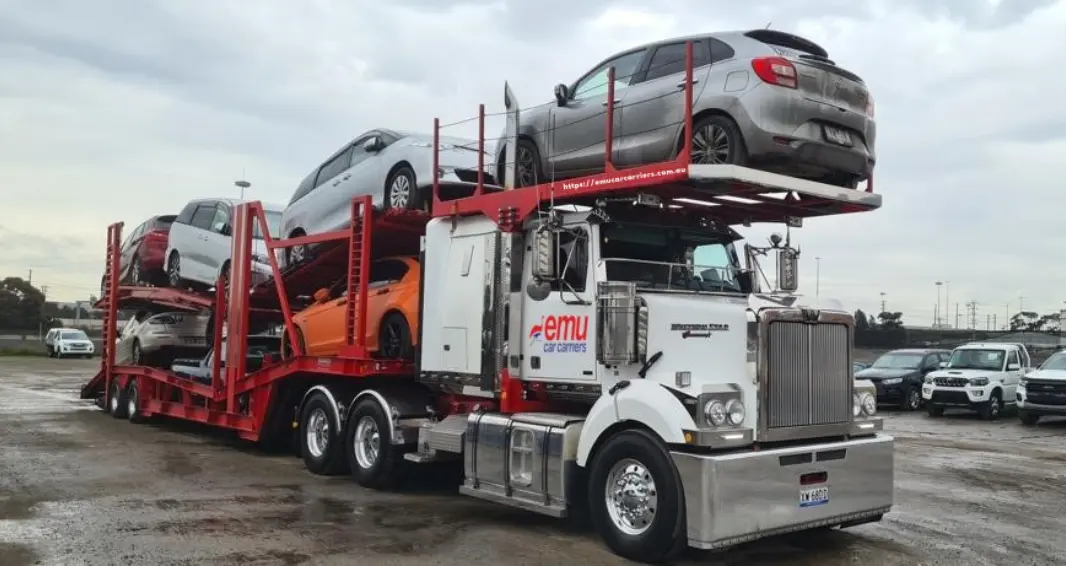 Car Transport NSW with emu car carriers
Car Transport NSW is easy with emu car carriers. You want only the best car carrier service when relocating your car. EMU Car Carriers are New South Wales's top option for business transport services. You can rely upon our services.
Car Transport NSW In Australia
Car Transport NSW is assisted with the safe transportation of vehicles throughout Australia. We also provide interstate services. At emu car carriers, we take great satisfaction in providing door to door car transport. We offer an amiable and trustworthy car interstate transport service. Over the years, our pleased customers have turned into repeat customers. They are confident in our ability to provide cheap interstate car transport.
Best Interstate Car Transport
Emu Car Carriers are offering the Best Interstate Car Transport. For your vehicle transport, we help you choose the Best Interstate Car Transport. We always keep the lines of communication open. We are aware that effective communication is essential to finish the project. For you, we won't accept anything less than the Best Interstate Car Transport.
Cheap Interstate Car Transport
We specialize in Cheap Interstate Car Transport. You can move cars across New South Wales with us.
Car Carriers Melbourne To Sydney
Do you want Cheap Car Transport Melbourne to Sydney?
Are you trying to figure out the cheap car transport Melbourne to Sydney? Our Melbourne to Sydney car carriers will help you save gas money. It also prevents wear and strain on your vehicle.
It is the cheapest car transport Sydney to Melbourne. Regardless of whether you want your car to drive across states. Use our service for Sydney Melbourne Car Transport. We will make everything more straightforward and less stressful. We know you want peace of mind. Using the car transport Melbourne to Sydney by us is the ideal option.
Sydney To Melbourne Car Transport Cost
We transport your car from one state to another. Our professionals pick up your vehicles, including automobiles. boats, caravans, trailers, trucks, jet skis, and others. They transport it safely to the site. When hiring us, you may work without worrying. Our enthusiastic drivers have established a solid reputation. They deliver interstate vehicle transport services Melbourne to Sydney. These are high-caliber, dependable, and easy Melbourne to Sydney Car Freight.
Car Carriers Melbourne To Newcastle
Are you seeking Efficient and Fast Car Shipping Melbourne to Newcastle? If you're looking for car transport Sydney to Newcastle, get our professional service. It is better than Melbourne to Newcastle train delivery. A company's ability to deliver excellent customer service is crucial. Emu also offers car transport Sydney to Newcastle. Our professional service will do all the necessary tasks! With a skilled group of drivers and staff, we enjoy making car transfers for you easier.
Get our simple booking procedure. We also offer a professional car shipment service between Melbourne and Brisbane. No request is too challenging for us! To fit, we develop a personalized service plan. We deliver a seamless door-to-door or depot-to-depot car transport service. we do so within the given time limit. Your preferences and schedule will be honored by our knowledgeable personnel.
Why Choose Us For Your Interstate Car Transportation?
We provide transport of automobiles from Melbourne to Brisbane. We have moving experience in Australia. We offer:
A dedicated team of courteous and professional drivers
Customer service around-the-clock for the utmost peace of mind.
A seamless online tracking system
Vehicle transportation that is precise and on time
Safe and Efficient Shipping
Car Carriers Melbourne To Wollongong
Our high level of service has made car hire Melbourne to Wollongong easy. We provide prompt responses. Top-level care for interstate car transport anywhere in Australia. We pride ourselves on our car hire Melbourne to Wollongong service. We provide the ability to exceed in what we do. We offer unbeatable service to our customers. Get our affordable relocation for Car Carriers Melbourne to Wollongong.
Rely On Our Safe Car Transport!
We offer interstate car shipping Melbourne to Wollongong. You may trust us as an interstate shipping business to move your car. Please don't give your car to someone who won't handle it with care. By moving your car with a company that is not equipped to manage it. you can run the danger of it being destroyed during transit.
Welcome To Car Transport Services.
Our carriers are solid solutions for people and organizations transferring their vehicles. thanks to years of dependable, high-quality service. So, whether you need vehicle transport from Sydney to any northern coastline town. western coastal places, or eastern seaboard areas. we are sure you have a faultless service experience. Get Services for Transporting Vehicles of different models. Services from door to door or depot to depot
Safe And Quick Interstate Car Transport
Wide Selection of Vehicle Carriers 100% Customer Satisfaction. For vehicle shipping and relocation. We provide a wide range of services to manufacturers and distributors. importers, government organizations, and private customers.
Car Transport Melbourne To Penrith
With your demands for Interstate Car Transport, EMU Car Carriers Interstate is the leader. in Car Transport Melbourne to Penrith.
As the nation's leading provider of express vehicle shipping services, we provide a transportation option for all types of autos. You can relocate anywhere in Australia on schedule and in complete safety. Thanks to our Car Transport Melbourne to Penrith service.
Car Movers NSW- A Reliable Service
Our flexible and top-notch customer service provides the best help for your car needs. Our team of skilled professionals and cutting-edge carriers. with an extensive network in many states will pick up and deliver your vehicles.
Based on our years of experience in road transport as one of the safest auto carriers, you can rely on us. We provide tailored and reliable service. We are your neighborhood partner and can help with the vehicle and caravan. Truck, trailer, van, and boat transport in Melbourne's suburbs and cities.
Our Expert Auto Freight Services
We transport all vehicles using only the best car carriers in the country. We offer our services throughout the entirety of Australia. To top it all off, we have experience in the vehicle transportation industry. So, who could do the job for you more efficiently? An interstate mover from Melbourne, Victoria to Albury, New South Wales, can be b emu car carrier.
We also assist and tell our clients about every facet of the relocation. Our movers are trained in every state and have years of experience. Both heavy and light loads are no problem for us. Instead of renting a car, you may save time and money by employing our door-to-door removal service.
Melbourne To Albury Car Removalists
We extend our Melbourne to Albury Car Removalists services also. You can make use of these value-added services. It goes without saying how convenient it may be to use a reliable interstate moving company. to move from Melbourne to Albury.
The knowledgeable staff will check every facet of car removal Melbourne to Albury. Develop a plan that is tailored to your needs. All information is contracted. Verified and signed for your peace of mind. We do so after the specifications are decided upon and meet your preferences.
Transport Of Automobiles Between Melbourne And Maitland
If you're looking for a shipping quote from Melbourne to East Maitland, you're in the right place. It has never been easier to get quotes from our network of carriers for transporting your car.
Long-distance car shipping necessitates a few factors that are established. Skilled car transport companies comprehend well.
CAR TRANSPORT NSW WITH EMU CAR CARRIERS
You'll receive a price right away when you submit your quote request. The prices will always be fair and within reach. Everything happens in a matter of seconds.
Our qualified carrier partners will provide sincere, accurate quotes. Fast pickups, and communication throughout the transit process for Car Transport NSW.