Melbourne to Sydney Car Transport in Australia
/
Melbourne to Sydney Car Transport in Australia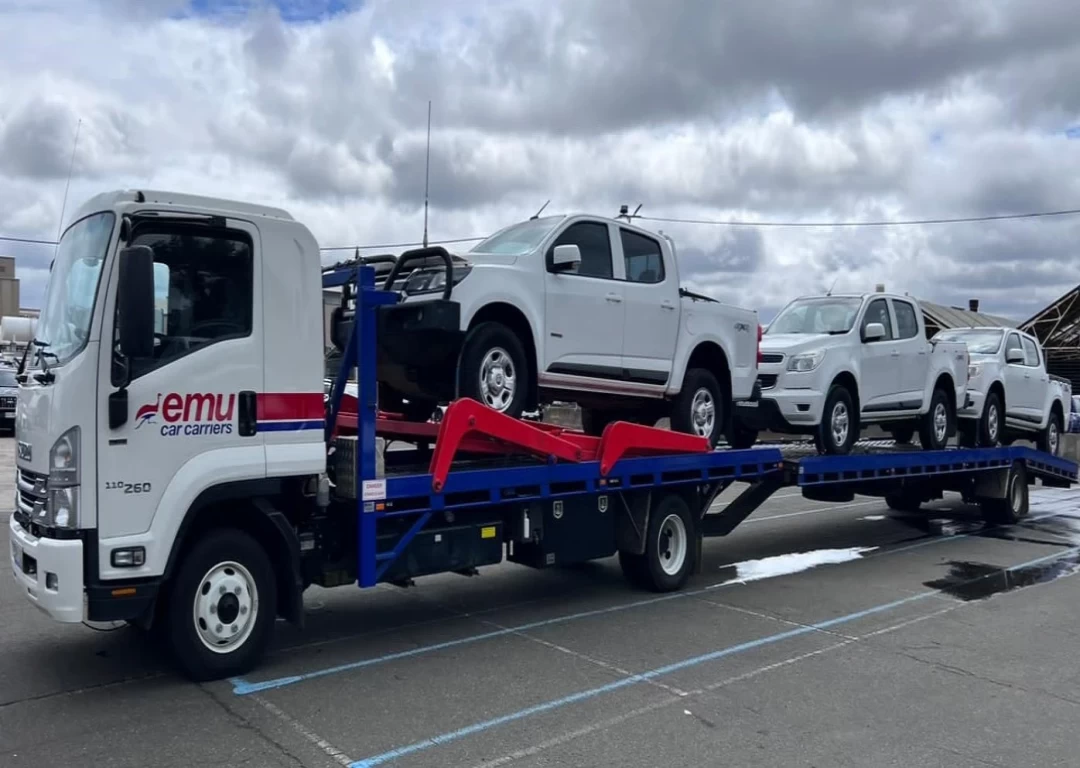 Melbourne to Sydney Car Transport in Australia
Melbourne to Sydney Car Transport is a basic need of people these days. Vehicle shipping is made as quick, safe, and inexpensive as feasible by emu car carriers. It is one of the top national companies offering door-to-door auto shipping services. Let us move your car using our expertise!
Melbourne to Sydney Car Transport in Australia
We can help you with your needs for Melbourne to Sydney Car Transport. whether you require an auto manufacturer to move vehicles. vehicle dealer, car collector, or a private person. Get a car shipping quote.
To request a price, use our online Vehicle Transport Calculator. It's quick and easy. Review your quote after entering your transport information. Go ahead and make your booking by phone or online.
Melbourne to Sydney Car Carriers via emu car carriers
From beginning to end, we meticulously plan the Car Transport with our Melbourne to Sydney Car Movers. The entire procedure is overseen by our experienced staff of car transportation professionals. With the help of our trusted car shipping services, we relocate thousands of vehicles each month.
We provide seamless car transport Melbourne. Get various advantages. Our reliable and trustworthy transportation services are available to you and your friends. We are flexible and knowledgeable enough to accommodate your transportation needs.
Perth to Melbourne Vehicle Shipping
For car shipping Perth to Melbourne, we can pick up your vehicle there. On the day of pickup, we thoroughly check your car before we load it into the carrier. use our online transportation tracker. Your shipment's status can always be checked online. With safety in mind, we transport your car from Perth to Melbourne.
Sydney to Geraldton Car Carriers
Looking for Sydney to Geraldton car carriers? Anywhere you choose, we can transport your car! We move automobiles back and forth for our seasonal customers every year. so, they can relish the transition.
We relocate the vehicles of thousands of migrating individuals. Whether moving a home or relocating a business. For us, moving a car from Sydney to Geraldton is simple.
How can vehicles be transported across the country?
emu car carriers are skilled in moving automobiles cross-country. You get help transporting your car from our experts. We transport a huge number of autos across the nation. We are experts in offering services for national, open, and enclosed car transport.
We are well-known throughout the nation. for providing high-quality auto transport and hauling services at reasonable prices. Any worries concerning How to Transport Vehicles Across the Country are no longer necessary.
Transport Using a Closed Vehicle
We'll transport your car safely and on schedule. We appreciate your use of our enclosed transportation service! A variety of enclosed auto transport services are offered by us. transport for historic and exotic cars as well as vehicle transportation services. Regardless of the type of vehicle, you need to ship or the destination, we can help. We can help you out!
Vehicle Freight Melbourne to Sydney
We provide Vehicle Freight Melbourne to Sydney. Our ability to consistently deliver the highest level of customer service is demonstrated by our history in the industry. A frequent concern among our customers is how to cross-country ship their cars. Regardless of whether you're moving across the nation or to a new city.
A crucial decision is which automobile transportation firm to use. So, who can you trust to secure your vehicle at a fantastic value? One of the best firms for shipping cars is emu Car Carriers. Learn more information about every auto transporter. as well as charges and information you should be aware of before hiring a car moving firm.
Benefits of using us to transport your vehicle
We provide our cherished clients with the following car carrier advantages:
We move a range of automobiles.
We provide dependable and superior car transport services.
Fleet that is adaptable and can expand its service areas.
A reliable transportation company with over ten years of experience.
How do we transport a car?
How to transport a car? We are aware that you are wasting your entire day on this. Open automobile transport is offered by emu car carriers. The most economical method for moving multiple automobiles at once is this one. We specialize in providing open car transportation services.
We ensure that your vehicle arrives at its destination safely. If you want to transfer a vehicle for the least amount of money feasible, our open transport service might be for you. We are the market leaders in terms of open, closed, and international transportation services. There is no need to worry about how to transport a car.
How is a car moved across the nation?
How is a car moved across the nation? We've been shipping cars across the country for a while now. and we continue to improve. How is a car moved across the nation? This knowledge helps us advance. It enables us to give you the easiest and most cost-effective car transportation service we can.
For all your needs about auto shipping, call us right now or via our online form. We'll provide you with a professional service experience and perfect auto transport.
Our Services
Vehicle Shipping, Salvage Car Hauling, Backload Car Transport, "Goods in Car" Transport, Door-to-Door Car Hauling, Door-to-Depot Car Hauling, Non-running Vehicle Transport, Depot to Driver-Meet Car Hauling are all services provided by emu Car Carriers for Car Hauling.
Both running and non-running vehicles can be transported by emu Car Carriers. We are always ready to transport your salvage vehicle across state lines. Your damaged or broken autos can be transported by us. In Australia, we provide local and interstate auto shipping services. You may simplify things for yourself. because Emu Car Carriers has the necessary expertise, experience, and delivery services available nationwide.
What sets us apart from other auto shipping companies?
We streamline the automobile transportation process. We find the best auto transporters in each region once we receive the information for your vehicle shipping. We figure out how many pick-ups, drop-offs, and waypoints are necessary.
The most efficient kind of transportation and transportation providers are sought by emu vehicle carriers. Your car shipment in Australia is made simpler by us. We provide the most affordable rates for shipping automobiles. We want to make shipping your car as easy as possible from Brisbane to Sydney.
We won't let you down!
Emu Vehicle Carriers have earned customers' trust by being able to meet their urgent shipping needs. We keep an eye on everything to make sure the automobile arrives on time and on budget. You can look through our FAQs if you have any questions about our automobile shipping services in Australia. You can also contact our customer service division for further convenience. You can even give us feedback after we deliver your car.
How do you schedule Melbourne to Sydney Car Transport?
If you're interested in receiving an estimate for car transport, get in touch with us. You may also use the calculator above to get a fast online car shipping quote. to find out the cost of shipping your car. To compute your price, we will need to know where you are shipping from and to, what sort of vehicle you want to send, and when your vehicle will be available.
Make a shipping estimate for a car. Our goal is to provide customers with vehicles in the finest condition possible. while furthermore offering first-rate delivery service. We consider it our foremost responsibility to serve our consumers. We shall therefore make every effort to provide top-notch services with the utmost attention! We won't compromise our integrity.
How can I get a Car Shipping Quote?
Obtaining a quote for interstate car shipment is possible in several ways. On the "Get Free Quote" page of the emu car carriers' website, you can ask for a quote. It will provide you with a quote for an interstate car shipment.
There are numerous options for moving automobiles. by use of our auto transport service. Whether you require a convenient vehicle freight service or a local or national automobile carrier. Your needs for auto shipment can be met by us.
Vehicle Shipping from Melbourne to Sydney
emu car carriers is one of the best automobile transporters from Melbourne to Sydney. When you book with us, you can depend on your automobile to arrive securely. to guarantee that your autos arrive at their destination on schedule. We provide reliable service. If you need road transport services anywhere in Australia, contact us for a free quote. Visit our website.
There, you can get more details regarding the services we provide. You can get a free quote by completing an online form. then discuss the specifics of your shipment with one of our members. Everything else is on us. Your car trip will be more fun than ever thanks to us.
Hire Melbourne to Sydney Car Transport Service!
Contact us if you need car shipping from Melbourne to Sydney. Nowadays, it is simple to transport a car from Melbourne to Sydney. We have years of experience in both covered and open-vehicle shipping. Contact us if you need Melbourne to Sydney Car Transport.