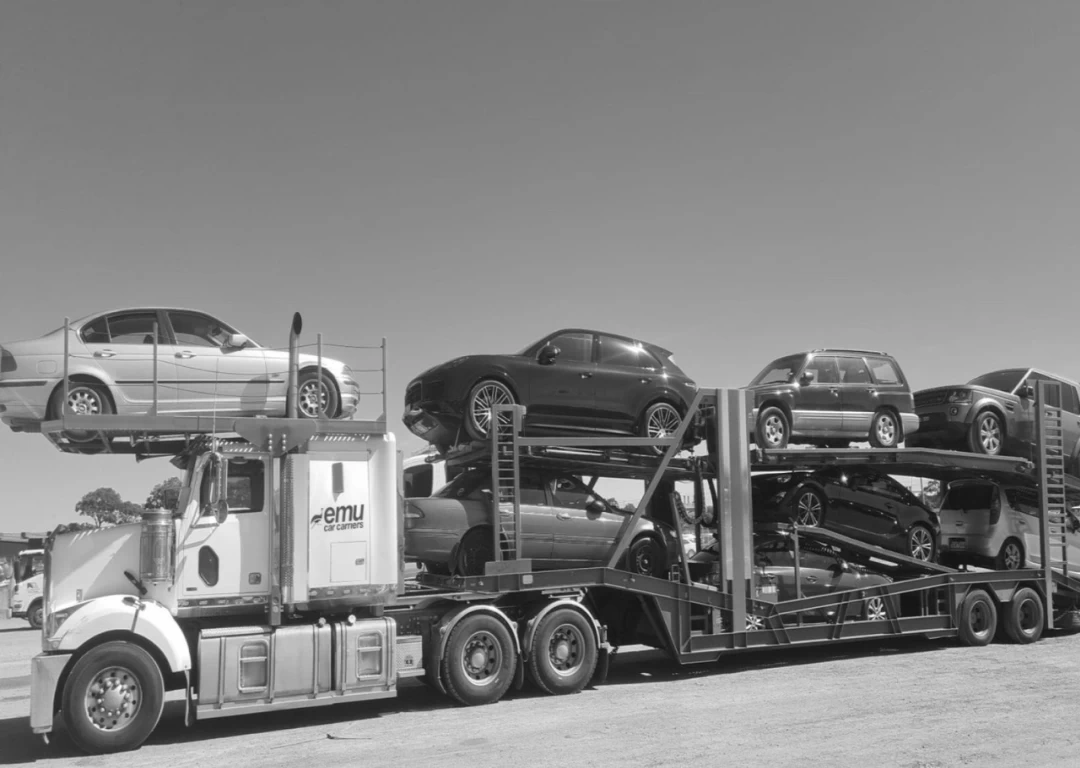 Interstate Car Carriers Australia
Interstate Car Carriers Australia are available at emu car carriers. We offer car transport Melbourne service. Our services include auto shipping, car hauling, vehicle freight, and car logistics. The most practical way to transfer a vehicle is via professional car movers.
Hire Interstate Car Carriers Australia!
Emu car carriers is one of Australia's biggest networks of companies that transport vehicles. You should be able to find what you need, regardless of how urgent the circumstances are. Suppose you need to move the cars you bought in Perth to NSW.
It doesn't have to take weeks of looking until you find anything that will work for you. We provide secure online booking. A fast booking means that the required vehicles will be dispatched more quickly.
How to book Interstate Car Carriers Australia?
You can visit our website to get Interstate Car Haulers Australia. Request a Quote now! Our car carriers will make car transportation easy for you. To provide customers with the best service possible, emu car carriers train their drivers and operational employees.
Our team ensures security and provides top customer service. If you require Car Carriers Melbourne to Mackay, get in touch with us. We strive to get your automobile to your door at the most affordable price while still providing high-quality door-to-door auto-delivery. Our online calculator considers every variable to provide you with the most exact and fair door-to-door transport cost imaginable.
Door-to-Door Car Delivery
We also offer Door-to-Door Car Delivery service. You choose a certain address where your car will be picked up and dropped off. The truck driver picks up and delivers your vehicle as close to the chosen address as is safely and legally practicable. When a truck driver transports your car with door-to-door Car Delivery. they pick it up and deliver it as near to your house as they can.
Large trucks are not permitted to enter certain residential neighborhoods in several cities due to restrictions on their use. Therefore, the driver may request that you meet the truck at a large parking lot nearby, such as a grocery store. If he does not have the access to your home. Our multi-vehicle Door-to-Door Car Delivery services are ideal for families traveling throughout the country. You may relax knowing that every automobile will arrive at your door.
Cheapest Way to Transport Car interstate Australia
The cheapest way to transport cars interstate cost australia is by hiring emu car carriers. It is a cheap interstate car transport service. Get to know the interstate car transport cost by requesting an interstate car transport quote. You can arrange for door-to-door auto shipping without first viewing a charge right now. You can also read our interstate car carriers reviews.
Fast Car Carriers Melbourne!
Contact emu car carriers if you need Fast Car Carriers Melbourne. It is a company with a long history in auto transport. We give our best and have happier clients. We are adept at moving your automobiles. Request a price right away! emu Car Carriers offers regional Australian car carriers. We are Melbourne's interstate car shipping company. Get a price estimate for our car moving services in Australia.
Best Interstate Car Transport
emu car carriers is the best interstate car transport. We have the expertise to manage loading, transportation, and unloading. Our team is efficient in auto hauling. The best car delivery services are our priority to provide. We make transporting your car simpler.
Car Carriers Melbourne to Mackey
emu car carriers provide their services for Car Carriers Melbourne to Mackey. The most popular means of transportation for exporting cars from Mackay to Melbourne is open car carrying. We offer the best open car transport service for a fair price. Get a car shipping service depending on your needs.
Are you looking for services for Interstate Vehicle Transport in Melbourne, Brisbane, or Devonport? In Australia, we are providing fast and free car shipping quotes. Get a vehicle shipping quote today! The best auto transport company in Australia is emu car carriers. Safe automobile delivery, safe online payment, and dependable car shipping are all areas of our competence.
a) Single-Level Open Car Trailer
The single-level open-car trailer, which is slightly more expensive, can haul two to four cars. The most expensive luxury and sports automobiles are delivered using this type of car service. This service is more expensive than two-level car transport, however, it is still less expensive than enclosed car transport. Because of their size and weight, there are limits on the number of cars that may be carried at once.
The most effective way to move cars is with single-level trailers. Local deliveries are made using the most affordable open car carriers, also known as single-level open vehicle transport. The ideal mode of transportation for short distances is single-level open vehicles.
b) Level Open Car Trailer
The most common type of auto transport truck is this one. As a result, you have probably already seen it. The two-level open automobile transport service is available for delivery.
There are two floors here for vehicles or trailers. Door-to-door service is not possible with this auto shipping service. Transit from depot to depot is preferable instead. A two-level car transport service is used to deliver vehicles to showrooms and auctions when each vehicle is going to the same place. When many cars are delivered at once, sending an automobile from Melbourne to Perth is the most affordable service.
Interstate Car Removal Australia
The method used to transport the cars from Brisbane to Wollongong depends on their size and weight. We move several cars every day with our Interstate Car Carriers Australia. Open vehicle trailers cost half as much to ship a car from Brisbane to Wollongong than enclosed auto transport trucks. Due to their lower cost and less travel time, open cars are preferred by most customers. Vehicles are moved by auto movers in Australia with the aid of car-moving companies.
If you want Interstate Car Removal Australia, hire us. We follow through on their commitments. unlike most other small car carrier services. It's possible for someone to drive your car and pick you up. rather than loading it into a truck, might mistreat it while traveling, or might continually push back the schedules.
Interstate Auto Freight Australia
We offer door-to-door auto shipment for Interstate Car Freight Australia and other nations using a specialized covered vehicle trailer. With the best Mackay Car Carriers services provider in Australia, you can move and transport vehicles safely.
We ensure total transparency and streamline the process at every level. We have secure vehicle carriers. We provide car carriers as well as transportation services for shipping cars from Mackay to Melbourne. You can order single-car carriers and multi-car carriers. Emu car carriers try to have a match for any sort of vehicle you want to ship from Perth to Canberra. To suit their needs, we can provide our customers with the broadest range of options.
Car Shipping from Perth to Canberra
Get automobile shipping from Perth to Canberra. In only a few minutes, get quotes. Our main goal is to make the booking procedure as simple and effective as we can. It enables us to offer the best conditions and benefits to our consumers.
Our leading vehicle shipping company provides top customer service. We put a lot of effort into giving our customers the best auto freight service from Perth to Canberra. Make a car transport plan now.
emu car carriers provide Car Transport Perth service providers for the shipping of cars from Perth to Karratha. They can oversee your backloads and transports for the shipping of cars from Brisbane to Melbourne. Transportation costs vary based on distance and weight.
Your car needs to be transported across state lines, which involves more than just picking it up and dropping it off. We support you throughout the entire car shipment process from Perth to Karratha. But being a well-known name in interstate auto shipping, we have specific methods for delivering cars via interstate auto transport Australia.
Interstate Car Carriers Australia
Thanks to our business expertise. We are aware that it is a difficult task that needs thorough preparation, management, and execution. Hire our Car carriers Melbourne for Interstate Vehicle Shipping. Visit our website to book a quote now! Contact us today to get our Interstate Car Carriers Australia.