Car Haulers in Australia- emu car carriers
Car Haulers in Australia
Car Haulers in Australia are the ideal option to get the best pricing for the transfer of vehicles. emu car carriers is the best car hauler in Australia. It offers a convenient door-to-door pickup and delivery service.
Car Haulers In Australia- Cheap Car Transport
Car Haulers in Australia make car transport convenient. There are several factors to consider when automobile owners think about transferring their vehicles. Cost is typically one of the most significant factors people consider. It can be challenging to determine if this service is priced fairly.
Interstate Car Transport Cost
Car transport costs are influenced by several factors. These are constantly evolving. There are numerous car transport businesses and ways to move an automobile. The total cost of moving an automobile across state borders is influenced by all these factors. The following factors are included in the price of car transportation:
Total Distance Traveled
The price of gasoline.
The dimensions and make of the vehicle you're hauling
The type of vehicle you're hauling
The time of year you will be moving
The vehicle you choose to go in
Door-to-Door Service vs. Depot Service
Open-Carrier Vehicles
Car Carriers that Are Enclosed
How Long Does It Take To Deliver Your Car?
Giving precise car freight delivery estimates is challenging. Shipping timelines may be shorter or longer Depending on your delivery location, the auto transport business, and the shipment method.
Should You Hire A Mover Or Do It Yourself?
Your priorities will determine whether you should engage professional movers. Hire a mover if you have a short time and value convenience. Hire a car carrier if you want some convenience while working hard to keep prices down. For individualized and cost-effective convenience, you can also combine these services.
You need to decide early in the moving process how much work you want to perform on your own. This establishes the best moving company for you. The convenience of your relocation, and the cost of your move. Most of the stress associated with relocating is removed by hiring professional car freight movers. Full-service movers handle all aspects of your move for you, including packing your possessions, disassembling your furniture, transporting your items, and unpacking them in your new home. A full-service relocation is ideal for you if you'd prefer to leave the trouble and laborious work to the professionals.
Locate An Expert Car Mover
To assist you in getting the best moving company for you. We have researched services, client experiences, and company availability.
Transporting Cars With Professional Auto Carriers
A reputable moving company assists you with loading and transporting your vehicles. It's the easiest method of transportation.
The Best Car Hauling Service In Australia
Even if you select a reputable moving company, packing up your entire life and moving to a new location still leaves you with many uncertainties. emu car carriers is the best Car Hauling Service in Australia. We've compiled our best resources to assist make it easier for you to relocate. Such as transport suggestions and guidelines on what to expect. money-saving advice, and everything else you need to know for your move.
Obtain Several Quotes
Getting multiple quotations is one of the most crucial procedures when choosing a professional mover. We typically advise collecting at least three quotations from trustworthy movers because moving firms' prices vary based on the area. This ensures you receive the most affordable car shipping quotes.
Selecting A Motorbike Transport
You can find yourself setting up for a motorcycle transport more frequently than you might imagine. You might wish to take a particularly long road trip. But not wanting to ride all the way back. In addition to house moves and when buying or selling a bike. An expert should be consulted because you cannot take a vehicle as hand luggage or to the post office. How to do it is as follows:
Pick your Car Transporters.
You don't need to worry too much about getting the cheapest quote because there is lots of competition. Choosing a legitimate, insured, and trustworthy company is what you should be concerned about.
Transporting Cars Open Or Enclosed Trailor
The most important decision you must make is whether you want an open or closed trailer. The safe trailer option is usually the best choice because it will better protect your vehicle from theft and the elements. You might think about having your car sent on an open trailer if you need it right away, especially if you're having it shipped to a remote location. The closed trailer is essentially the only feasible choice for trips longer than a few hundred miles.
Get Your Car Ready For Shipping
The car needs to be fully cleaned before being transported. After that, you should photograph it from every angle while noting any dents and scratches. If it has any delays while in transit, this will lessen the likelihood of conflicts.
You don't need to disconnect the battery or empty the gas tank if you're utilizing a specialized car transport firm instead of a regular freight company. In fact, you should let the movers know if the tires are under-inflated. or if there is a technical issue that prevents it from being ridden. Because they may need to ride your bike to load it onto and unload it from trailers.
Drop-Off And Pickup
Your vehicle shippers will need you to bring the car to them unless you chose the "door-to-door" option. You may need to deliver it to your transporter up to ten days before you want it to arrive, depending on whether you chose an open or closed trailer. If you need it sooner, though, you can arrange for more expedited shipment.
Obtain A Price Quote
Before having any work done, request a written quote. The quote should include the following information: the work to be done. The parts to be supplied. The projected time of completion, and the method of payment.
Vehicles Safety And Security
Safety should always come first when moving your car in Melbourne or Sydney. Itis very crucial. One of the safest methods for transporting multiple vehicles is multi-car vehicle transfer. Utilizing restraints, your car is securely fastened to the trailer so that it won't move while you're driving. Each time they stop as well as before and after each trip, all this equipment is inspected.
Even though it's crucial to have the right tools on hand to minimize the danger of damage, it's even more crucial that your car arrives at its destination without incident.
Car Haulers in Australia- Emu Car Carriers
Because of this, every one of our drivers is thoroughly qualified and takes the safest route to the location. Contact us today to get a price for hassle-free vehicle transportation. Visit our website to learn more if you have any questions concerning Car Haulers in Australia.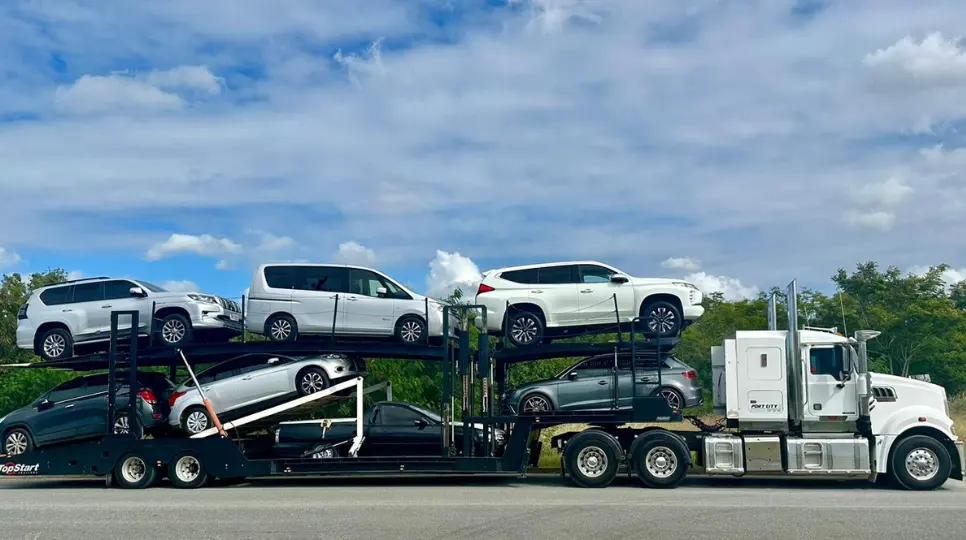 why choose us
Our customers trust us. They choose us because of Our:
Professional Team
Professional Team
Safe Vehicle Shipping
Our Cooperative Staff
Customer-focused Behavior
Positive Customer feedback