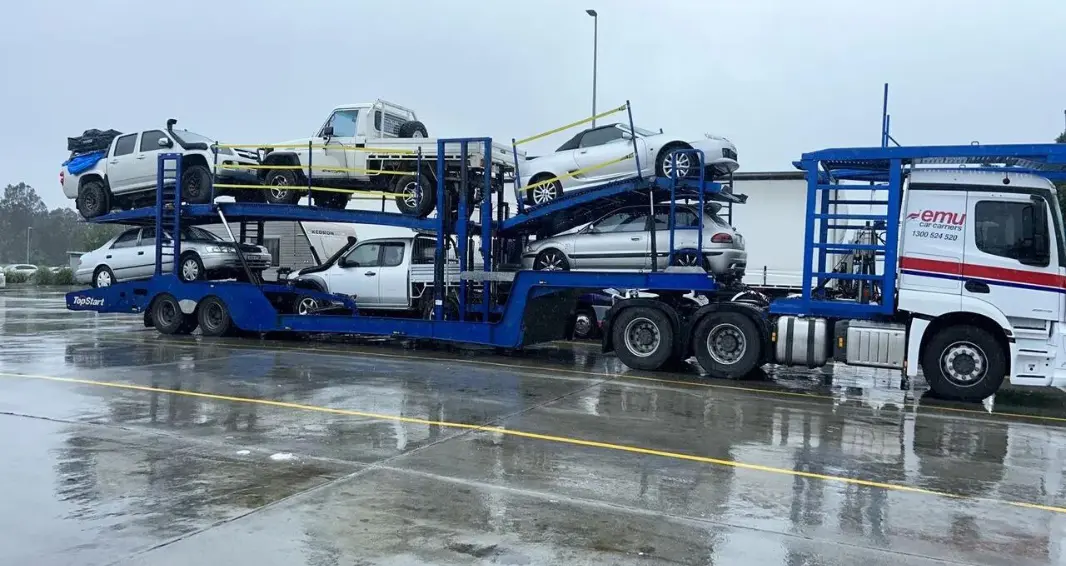 Car Freight Service- emu car carriers
CAR FREIGHT SERVICE
Car Freight Service is the top choice of customers these days. EMU Car Carriers are offering interstate transportation services in Australia. It is one of the most reliable interstate shipping firms in Australia. Our clients can ship their cars with the help of our extensive network of auto transporters.
CAR FREIGHT SERVICE IN AUSTRALIA
Car Freight Service specializes in providing interstate transport services throughout Australia. With its extensive industry knowledge, it offers a comprehensive range of services.
We provide interstate car shipping services to meet a range of delivery requirements. Because of our excellent customer service, people trust us. Every time we interact with a client, we work to win their trust. We work very hard to simplify your life. Within Australia, interstate auto shipping is affordable. We offer reliable, efficient, and secure transport. Customers depend on us to deliver on time.
DO YOU REQUIRE AUSTRALIAN INTERSTATE FREIGHT SERVICES?
To obtain our interstate freight services in Australia, choose us. We reply to our customers. Due to our considerable interstate transport experience, we can guarantee a hassle-free journey. For our interstate vehicle transport, we provide depot-to-depot and door to door transit.
Our effectiveness determines whether we can provide dependable interstate vehicle transport. We ensure that the transportation infrastructure coincides with the demands of the clients. Our auto transport service is trustworthy and flexible. We adhere to a daily schedule to provide a reliable transportation service.
Moving Cars All Over Australia
Throughout Australia, Emu car carriers provide interstate freight services. If you need auto transport in Australia, give us a call. We provide reliable, inexpensive, secure, and safe car hauling services. Our drivers are respectful and competent. Both depot-to-depot and door to door delivery are available from us. You can get interstate transportation prices from us quickly between major cities. Booking interstate transportation should be done 1-3 weeks before the preferred pickup dates.
INTERSTATE TRANSPORT WITH EMU CAR CARRIERS
Are you looking for interstate car transportation with a lot of experience in auto transport? Your needs for exporting an automobile can be satisfied by Emu car carriers. Cars are interstate transported by an Australian company. We have sent a variety of makes and sizes of vehicles throughout the country.
We refresh our service to ensure you're happy with our logistical preparation. Our company has been operating for approximately ten years. Our expert team makes a constant effort to offer reliable and timely service. We guarantee that We will deliver your possessions to you in the same safe condition. We can also handle all the logistics thanks to our extensive network. Melbourne's company is among the best for interstate transportation. This is all a result of our extensive knowledge of interstate transportation services.
YOUR TRUSTWORTHY AUTOMOBILE TRANSPORTATION!
We'll talk to you to better understand your needs. We'll do our best to provide you with the services you need if you accept our recommended solution. We can now provide convenient auto-moving services to our customers. We offer real-time car tracking besides our other services. We transfer all car types.
OUR RELIABLE CAR TRANSPORTERS!
Emu car carriers offer the most affordable interstate transportation Melbourne to Devonport. We transport your cars. We offer various services to meet the needs of both individuals and businesses. We are known for excelling in our industry. It is the outcome of our efficient service, courteous staff, and delivery methods.
WE SUPPORT VARIOUS FORMS OF TRANSPORTATION
Our Door-to-Door Interstate transport Service takes care of everything when you need convenience. We help you, from pickup to delivery. You can schedule a pickup with Emu car carriers. Request a car transport quote for interstate transportation.
There won't be many carriers or auto transfers to deal with. Instead, you'll deal with a solitary person. If you have any questions, don't be afraid to get in touch with us. Our door to door service is a perfect fit for your interstate moving needs. Request a quotation for interstate car shipment. Our wide-ranging truck network covers the entire country. We provide many different delivery service types. We interstate transport your autos. We can choose the vehicle that best suits your Interstate Carrier Logistics requirements.
What is the Cheapest Way to Transport Car Interstate? Cheap Car Transport
We provide dependable, adaptable, and innovative transport solutions for our clients and customers. We offer a wide range of conventional freight, heavy hauling, and oversize transportation services. Emu car carriers offer Cheap Car Transport.
We are happy with our offerings. Our team of transportation specialists has competence in huge projects and heavy equipment. We collaborate to make sure that daily operations and initiatives go well.
We can deliver your items anywhere in Australia, not just in the major cities. First, we wish to assist you in moving the cars as quickly as we can.
You may rely on our interstate freight service to transport your autos to any state in Australia. It is the cheapest way to transport car interstate.
Melbourne to Brisbane Costs of Interstate Freight
Do you need interstate car shipping prices from Melbourne to Brisbane? Give us a chance to meet your transportation needs. Our clients are in all Australian states and major cities. We have a track record for reliable, secure, and prompt delivery. You'll feel secure throughout the process.
You may be sure that we will stay within your budget. Thanks to our Cheap Car Transport and quick online quote system. We can offer you quick transport services. We follow your interstate delivery as it travels across the state from Brisbane to Melbourne.
You may rely on us to provide car shipping services. You can contact us at any time to ask about interstate freight rates. Call us for a free estimate on interstate freight costs from Brisbane to Melbourne. You can travel interstate for less money.
Interstate Vehicle Transport Booking
Our effective interstate shipping service meets your needs. Please make a booking for any of our interstate vehicle shipping services by calling us. Use our online reservation system. Also available to you is our "Request a Car Transport Quote" option.
When we can, we'll respond to your message. Contact us for more information on any of our interstate freight services. Our area of expertise is interstate vehicle transport in Australia.
Door to Door Car Transport
We provide efficient and dependable interstate logistics services across Australia. Our countrywide fleet of vehicles meets the transportation requirements of many sectors. Moving large and oversized products between Australian states is one of our specializations.
We provide a wide range of services to customers across the country. With its customers, Emu car carriers cultivate enduring relationships. Our organization moves many autos every day. We are transporting cars pros.
For heavy transport, among other things, our staff is the preferred vendor. We raise the bar when it comes to providing effective transportation. It allows us to move a range of vehicles.
You Can Trust Our Interstate Vehicle Transportation Service!
Your vehicles are taken care of by Emu car carriers. To shield your car from a dangerous environment, we deploy the technology. Your belongings are transported safely by our service. We work together with a variety of vehicle carriers all around the country.
It helps us to offer better automobile travel experiences to our customers. Our management ensures that we protect your vehicle from the moment we receive it until we move it. You can send it as far as you want, and it will still function.
We guarantee the upkeep and security of your vehicle. We send only secure autos. Our major aim is to carry out a secure transaction. Both bank transfers and our cash payment alternatives are secure.
Our clients receive prompt cash transfer alerts at any time throughout a transaction. An invoice with bank details and terms & conditions is sent to the client. Get in touch with Emu car carriers for Australia's top interstate shipping services! You can visit our website to read reviews on interstate car shipping.
Reasons for Emu Car Carriers Selection
The following are some benefits of employing our services for interstate automobile hauling:
Interstate Transportation at Lower Prices
Good customer service and affordable prices
Skilled drivers and a trustworthy transport team
Simple Bookings Quick and Free Car Transport Quotes
Many of our clients have busy schedules and need prompt service. So, we provide free car transport quotes. Customers choose us for their interstate hauling needs due to our competitive pricing.
Service for Interstate Cheap Car Transport
For us, a team of professionals is employed. They move automobiles between states. We strive to relocate your car with the least amount of environmental impact. We are here at any moment to assist you.
Emu car carriers do everything possible to pick up your car on schedule. Our team is conscious of the significance of adhering to your deadlines.
CAR FREIGHT INTERSTATE SERVICE BY EMU CAR CARRIERS
We go above and above to relocate your used car following all traffic laws. We deliver autos to various areas in Australia. We offer reliable, cost-effective, and excellent Interstate Car Freight Service.