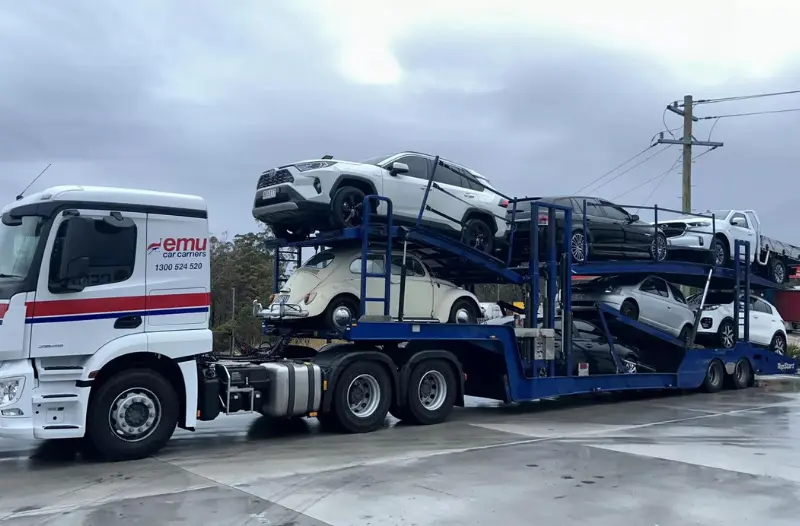 Car Transport Melbourne to Port Macquarie
Car transport Melbourne to Port Macquarie is a long distance that covers more than 1200 kilometres. Emu Car Carriers is a company for you if you need a vehicle shipping from Melbourne to Port Macquarie or any other city in Australia. We offer customised services that suit your requirements.
Experience hassle free car transport Melbourne to Port Macquarie
Our experienced and qualified team will take care of everything regarding transit so you can relax and enjoy your journey. We make your transportation experience smooth and hassle free. This blog will give you detailed information about Car transport Melbourne to Port Macquarie.
The services we offer
We offer our customers a complete range of services in Australia. Moreover, unlike many other car carrying companies, we hit the roads of all Australian states without any exceptions. Our services include
Door to transport
Door to door car carrying means that we will pick your car up from your doorstep and deliver it to your desired location. Our driver comes to you and picks up your car. It is the most convenient method of interstate vehicles moving in Australia.
Terminal to terminal car moving
Terminal to terminal auto moving means we will pick your car up from a terminal and drop it off at another terminal. Generally, car dealers or people moving their vehicles from one point to another use this method of vehicle transportation.
Terminal to door car transportation
In this kind of transit method, we pick up your car from your door and deliver it to its destination. Usually, people selling their cars or purchasing a new car use this transport service. Moreover, a person may also use the door to the terminal car moving when they need to have their automobile repaired.
We also offer car towing services across Australia
Imagine yourself heading towards the office, and your car's engine stops working. What would you do if no auto repair shop was around the corner? In this kind of situation, all you need to do is take a deep breath and call us at 1300524520. We will tow your car to your destination. You can then leave the rest to us.
Enclosed car shipping is another option
Enclosed vehicle shipping means carrying your car in an enclosed container. This method of vehicle relocation is generally used for transporting luxury and brand new vehicles. In this kind of transit, your vehicle is super secure and safe. Moreover, if you carry a car in an enclosed carrier, your car gets individual attention from the team.
The most common choice of people Open air car carrying
An open vehicle transit is a method in which we use open air trailers to move automobiles from one point to another. Usually, the standard and everyday cars are transported through this service. Many cars can fit onto one trailer, making the transit process affordable.
What to expect at the time of transit
There are some steps for the process of transportation in Australia. You should follow these steps to make the transportation process smooth and hassle-free.
Obtaining a free quote from the car moving company
First of all, you need to get a car moving quote. Efficient and well reputed car transport companies offer free of cost vehicle carrying quotes. This quote is generally an estimation of the pricing for the process of relocation. At Emu Car Carriers, we promptly provide our customers with a car hauling quote.
Booking for the transit
The moment you request a quote, we will ask you about a few details and provide you with a free automobile carrying quote. The details include the model and make of your car and the pickup and drop-off locations. After we send you the quote, it's your turn to book the transit. Before booking, reread the rules and regulations.
We will pick up your automobile from your doorstep
Our trained and professional diver will reach your location and ask for the pickup at the assigned date and time. They will load your auto car with care and safety. We have trained our staff members to load and unload the vehicle safely and securely.
The time of dropping off your automobile
Finally, our driver will reach the assigned date and location. We request you ensure your presence at the time of delivery. This saves both you and our staff from hassle and effort. Inspect your automobile thoroughly after transit. After receiving your vehicle, please leave a nice review for our company. Your appreciation boosts our confidence.
Conclusion
Emu Car Carriers is your trusted partner for car transport Melbourne to Port Macquarie. We offer a number of services that meet your requirements, including door to door transport, terminal to terminal transport, terminal to door transport, car towing, enclosed car shipping, and open air car carrying. Get your precious wheels moving with us!
Car Transport Melbourne to Port Macquarie is easy with us!
You can trust us to move your vehicles interstate in Australia. Make a wise decision because your automobile deserves it. Get an absolutely free quote at https//emucarcarriers.com.au and experience a professional car transport Melbourne to Port Macquarie.