An affordable Car Transport Queensland to New South Wales
/
An affordable Car Transport Queensland to New South Wales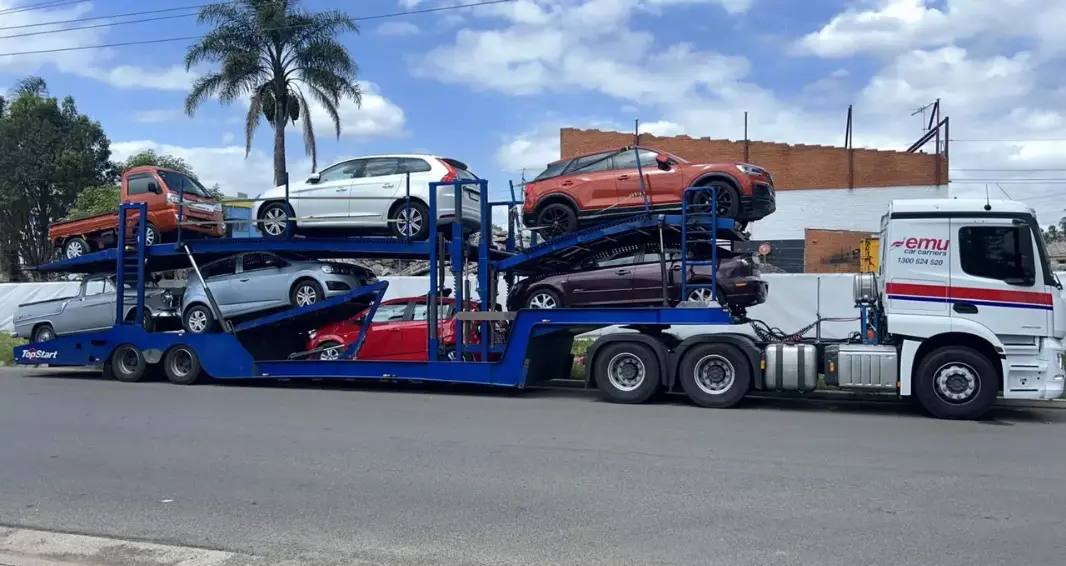 An affordable Car Transport Queensland to New South Wales
Imagine you are embarking on a new chapter in your life, relocating from the vibrant sunshine state of Queensland to the bustling metro state of New South Wales. Amidst the excitement of new beginnings, there's one daunting task of transporting your beloved car across the vast expanse of the Australian continent. Fear not, for Emu Car Carriers, your trusted partner in interstate car movers, is here to transform this potentially daunting experience into a smooth car transport Queensland to New South Wales.
Car Transport Queensland to New South Wales: Journey with Emu Car Carriers
Relocating to a new state can be an exciting but exhausting experience, but we at Emu Car Carriers make it easy and smooth for you. We understand your concerns and are here to make your car shipping Queensland to New South Wales as hassle free and seamless as possible. We have customised solutions for all your vehicle carrying needs. Let us explore how our company stands out in the car hauling industry in Australia.
Customised solutions for car transport Sydney to Gold Coast
Whether you're an individual relocating for a new job or a business, an owner moving an entire fleet or moving to some other city for education purposes. We have tailored solutions for your car transport Sydney to Gold Coast. So, just let us know about any special requirements you have, and we will book your shipping accordingly. While getting a quote, communicate with our customer care staff and tell them what you require.
A comprehensive range of car transport services at your doorstep
Our company has brought convenience to your doorstep. We offer our customers numerous car transport services that are affordable and excellent at the same time. From door to door delivery to door to depot delivery and from open car logistics from Townsville to Wollongong to enclosed car shipping, we have you covered. Following are some of the services we provide our worthy customers:
Door to Door Car Transport
We provide the convenience of door to door car transport. You can relocate your car while sitting on your couch. All you need to do is to contact us and request a quote. Our customer support team will promptly respond with a free car moving quote. If you agree with that quote, we will book your shipment, and that's it. On the assigned date and time, an expert driver from our team will knock on your door and load your precious vehicle.
Depot to Depot Car Moving Canberra to Brisbane
This service is for you if you are a car dealer with branches in numerous cities. You can hire us to move your vehicles from one depot to another without fear or tension. Choosing a depot to depot is a more affordable option. Choose our depot to depot car hauling services from Canberra to Brisbane, where you can drop and pick up your vehicle at assigned locations. We request you to be present when our driver reaches the designated destinations.
Interstate Car Transport Brisbane to Sydney
Carrying or driving your vehicles from one state to another may be exhausting and tiring. But we are always there to help you out. We provide Interstate Car Hauling Brisbane to Sydney. Contact us, and we will vanish all your worries relating to car transportation. We specialise in interstate car movers across Australia, ensuring a fast and safe car moving Queensland to New South Wales. Moreover, unlike many other car shipping companies, we deliver your vehicles to all the cities and states without any excuse.
Unparalleled Safety and Security for Your Vehicle
Your car is a valuable asset; we treat it with the utmost attention and care. Our skilled and fully licensed drivers are equipped with customised equipment to handle all types of automobiles, from classic and vintage cars to modern SUVs. We also utilise a tracking system, updating your automobile's whereabouts. You can ask our customer support team about your vehicle's current location and status.
Transparency and Affordability: Our primary concerns
We believe in providing transparent and clear transit pricing so you know exactly what to expect from our company. Our online shipment system allows you to get an instant and absolutely free car moving quote and schedule your transportation at your convenience. Additionally, we offer flexible payment options that fit your requirements. One can know about the transparency and reliability of our company by reading the positive reviews on our online pages.
Customer satisfaction: Our foremost priority
Your satisfaction is our foremost priority. That is why we have hired friendly and communicative individuals for you. We strive to provide excellent customer help service and exceed your expectations. Our friendly and knowledgeable staff is always available to assist you with any questions or concerns, ensuring hassle-free car movers Queensland to New South Wales.
Embrace the journey of car transport Queensland to New South Wales with Emu Car Carriers
Let Emu Car Carriers take the reins of your car transport from qld to nsw or any other state in Australia. We'll handle the logistics while you focus on other aspects of your new adventure. Contact us today to get a free quote and embark on a smooth and hassle-free car transport Queensland to New South Wales.