When to choose a car transport company in Melbourne?
/
When to choose a car transport company in Melbourne?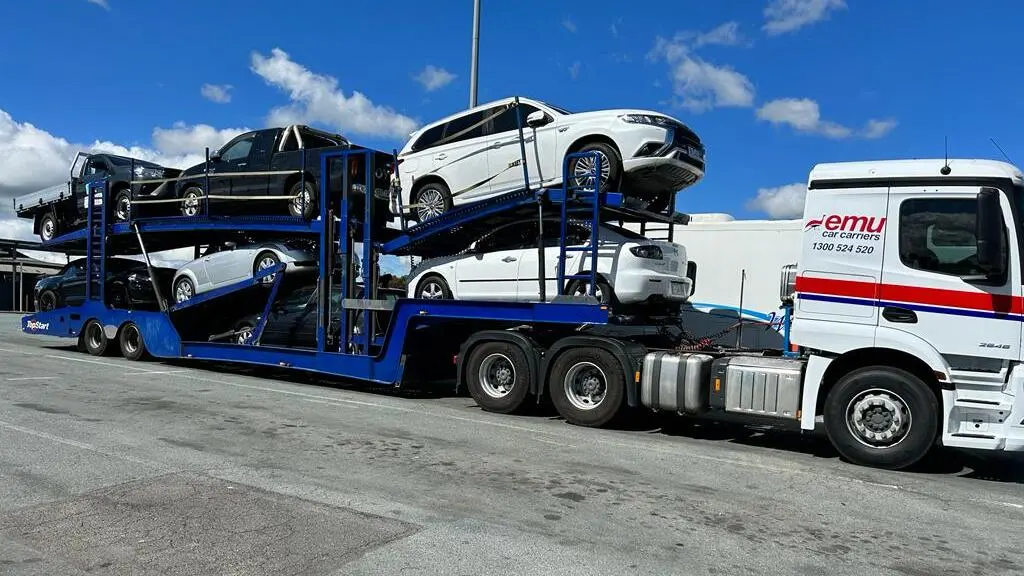 When to choose a car transport company in Melbourne?
Choosing a car transport company in Melbourne is essential because Melbourne is Australia's second most populated city after Sydney. The huge population keeps moving, transporting, and relocating their vehicles now and then. Let's discuss why one should avail of the services of a car moving company in Melbourne.
Car Transport Company in Melbourne provides convenience
A car transport company in Melbourne provides you with convenience. Driving a vehicle yourself may be tiring and exhausting. Moreover, it needs a lot of struggle and effort to do so. Whereas transporting a car with the help of an automobile carrying company is an easy way to get your vehicle relocated.
It saves your time
Driving your vehicle interstate or to long distances in Australia takes a considerable amount of your time. On the other hand, when you avail of the services of an auto shipping company, it saves you all that time. All you need to do is to book Emu Car Transport online sitting on your couch.
Car transportation services are cost friendly
Vehicle carrying companies are cost effective. Driving your automobile from state to state consumes more gas, thus making it more expensive. On the other hand, handing it over to a trustworthy automobile shipping company saves you a considerable amount of money.
Automobile carrying services are Secure
Automobile shipping companies take complete care of your vehicles and give them the attention they deserve. Carrying a car without availing of the services of a car transportation company may be insecure. This is why hiring a car shipping company in Melbourne is generally recommended.
Car Shipping companies ensure safety
Companies like Emu Car Carriers have quality equipment. These sophisticated and technologically modern equipment load and unload your valuables with care and safety. We ensure the protection of your vehicle from all kinds of dents and damages. These are some of the reasons why one should opt for a car transportation service in Australia.
Less Mileage Consumption
A number of dealers and the people involved in the sale and purchase of cars hire an automobile shipping service in Australia. The reason is carrying a car through some company saves mileage consumption. If you plan to sell your car, moving it through a transportation company is a good idea.
When to choose a car transport company in Melbourne?
Choosing a good vehicle transport is essential. When to choose a car transit company in Australia is another question that has many answers. There are many situations when you may need to go for car carrying services.
1. Moving to the new city
A car transportation service is a good option if you are moving to a new city. It makes you free from wear and tear. Also, it is safer to get your car transported through a company. It will save you time and money as well. Get Emu Car Carriers hired for excellent city to city and state to state transportation.
2. Buying or selling a car
If you need to buy or sell a car that is located in a different city, hiring a motorcar transit company is an excellent choice. It will consume less mileage, so the value of your car doesn't drop. Also, it saves from issues and struggles. A car transit company can transport your vehicle safely and excellently.
3. Shipping your car to the repair shop
Shipping your car to a repair shop can be a great way to get your car fixed if it is not drivable. If you live far from the repair shop you trust, you should go for its shipping. However, it is essential to research and choose a reliable shipping company to avoid any issues.
4. Moving Vehicle Interstate
Customers also choose vehicle transportation services when they want to move their vehicles interstate. Moving the motor car from one state to another can be tiring and challenging. Thus, people prioritise getting the services of auto shipping companies.
Booking an interstate car transportation
To book interstate road transport with Emu Car transport companies, you can follow the following steps
1.You can get a free quote online from our website https://emucarcarriers.com.au.We need to know your vehicle's model and make pickup and drop-off locations and suitable transportation dates for you.
2.Once you take the quote and agree with the price, you can book car transport online or over the phone.
3.Make sure the car is clean and free of personal items on the day of pickup. You should also remove any loose parts and accessories from the vehicle, such as roof racks or spare parts.
4.Our driver will arrive at the pickup location at the decided time. They will inspect your car to ensure it is in good condition and ready for transport.
5. Our driver will call you when your car arrives at the delivery location. Be there to meet them and sign the delivery documents.
Conclusion
Getting services from a vehicle transport company in Melbourne can save you money, time, and hassle. Car transport companies like Emu Car Carriers are experienced, well-reputed, and trained to handle your vehicles securely and safely. You may need car shipping services for multiple reasons. It is a simple answer to the question, Why should you choose a car transport company in Melbourne?
Contact the best car transport company in Melbourne
Emu Car Carriers offers a wide range of services to customers. Get your awesome wheels moving with us because we are the leading car transport company in Melbourne.