Car Transport Melbourne to Brisbane- emu car carriers
/
Car Transport Melbourne to Brisbane- emu car carriers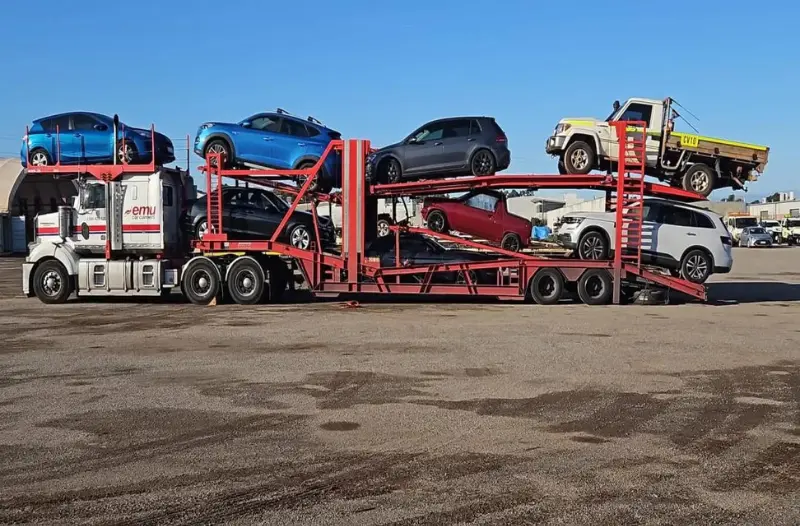 Car Transport Melbourne to Brisbane- emu car carriers
Car Transport Brisbane to Melbourne can be difficult. But it is now astonishingly simple. Thanks to modern car transport Melbourne to Brisbane services. Professional car transport services provide a seamless solution.
Car Transport Brisbane to Melbourne
Car Transport Brisbane to Melbourne is a reliable service of emu car carriers. We'll look at the advantages, factors, and procedures of shipping an automobile from Brisbane to Melbourne in this blog post.
Car Transport Brisbane to Melbourne with experts!
services are the expertise of emu car carriers. We pick cars from the door or depot and deliver them to your location of choice.
1. Savings in time and energy:
Depending on the route and rest stops, an automobile trip from Brisbane to Melbourne may take 10-15 working days. By giving driving to professionals, professional car transport enables you to save crucial time and energy.
2. Less chances of vehicle damage:
Your vehicle may sustain substantial damage from long-distance travel. Your car won't travel any extra distance or sustain any potential damage if it is transported on a carrier.
Reputable auto shipping businesses make sure that your car is safe and secure while in transportation. Modern carriers come with cutting-edge technology to keep your automobile safe from weather and road risks.
3. Convenience:
Arranging lodging, meals, and rest stops is necessary for long-distance travel. You can avoid these logistical difficulties and concentrate on other parts of your move by using car transport.
Things to Think About Before Shipping Your Car
There are many factors to consider before transporting a car. Some of these are discussed here:
1. Select a Reputable Transportation Provider:
Find a reliable auto shipping business by doing your research and examining its track record. Read reviews. Emu Car Carriers is a reputable and reliable car-carrying company.
2. Select Open or Enclosed Transport:
Open car transport is more common and economical. Enclosed transport offers covered transport. Based on your preferences and the worth of your car, make a choice.
3. Decide a date in advance:
Car delivery services can get very busy. Especially during the busiest times. To ensure your preferred dates, plan your transport well in advance.
4. Get Your Car Ready:
Before shipment, give your car a thorough cleaning inside and out. To avoid harm and ensure a smooth process, remove all personal goods and accessories.
How to transport a car interstate?
Moving out of state can be stressful. If you don't have a plan, figuring out how to get your car to the new state can be even more difficult. Fortunately for you, after reading our professional advice, you will have a strategy. Here is all the information you require to properly ship a car over state boundaries.
Employing a Reputable Car Shipping Company:
You can employ a car shipping firm if the distance is great, or you'd prefer not to drive the automobile yourself. They offer a variety of services with a focus on moving automobiles:
Your car is put onto an open trailer with other vehicles as part of an open carrier transport. Although it is the most popular and economical option, this approach provides less weather protection. We also offer backload car transport from Brisbane to Melbourne.
Booking and Estimate:
Get a car transport price from us. Once you're happy, book your transportation. Include any pertinent information regarding your vehicle and the pickup and drop-off locations.
Vehicle Inspection:
Your car will be carefully inspected by the transport firm before being loaded onto the carrier. If any disagreements arise later, this documentation will be crucial.
The carrier will be carefully loaded with your car before being transported. It will be fastened during transport to stop any movement or damage.
Tracking and communication:
Reputable businesses offer tracking services that let you follow the progress of your car. They also keep lines of contact open to let you know how things are going.
Vehicle Delivery:
Your vehicle will be properly unpacked and checked once it reaches Melbourne. To verify that your car is in the same condition as when it was loaded, make sure to inspect it yourself.
How much does it cost to transport a car from Melbourne to Brisbane?
How much to transport a car from Brisbane to Melbourne? Brisbane to Melbourne car transport cost can vary depending on the mode of transportation. Also, the travel distance, the type of vehicle, and the state of the market.
Contact us to get accurate and current rates for shipping a car from Brisbane to Melbourne. Based on your requirements and the rates in the market, we provide you with a particular price quote.
Conclusion
It doesn't have to be a difficult task to transport a car from Brisbane to Melbourne. Professional car transfer services provide a safe, effective, and practical solution. It helps you avoid potential problems. Also, it saves you time and energy.
You can ensure a simple and stress-free car transfer experience by picking a reliable provider. Complete the required preparations and be aware of the procedure.
Car Transport Brisbane to Melbourne with us!
Several methods exist for moving an automobile. It depends on the distance, your preferences, and your financial situation. Contact us for car transport Brisbane to Melbourne.