Get Car Removel Service in Australia!
Car Removal Service involves the process of removing different types of vehicles. These vehicles may be pre-owned automobiles from public or private property that are unappealing, outdated, or damaged. In Australia, an Auto Removal Service will collect, tow, and recycle old vehicles.
Where can I find a car removal service in Australia?
Australia's auto removal services are a dire need of customers right now. If your vehicle is harmed, outdated, accident-damaged, scrapped, or unattractive. It is surely uncomfortable to drive an ancient car that can't handle daily travel. Vehicle Removal Services can help with that.
Get Car Removal Service in Australia!
We are aware that you're looking for a car freight removal service in Australia. You should be aware of these vehicle removal facts before hiring a vehicle removal service in Australia. Auto removalists will provide you with the best service available to get your car out of all the paperwork, take care of towing, and handle everything else on their own, and they'll pay you money for it. This helpful service is provided by us to meet your needs.
Why do you need the services of an auto removalist?
All auto haulers follow a standardized procedure that enables them to reuse every part of the vehicle. Each piece of the wheels, battery, tires, and the catalytic converter is disassembled and used.
After all the pieces have been removed, the car is crushed and compacted, and you now have the car's fair share of scrap metal. There are many applications for scrap metal, and recycling it is one of the most environmentally friendly things we can do. That unquestionably has a big impact on the environment.
How to choose a dependable car removal company?
In Australia, locating a trustworthy auto carrier service is not difficult. To choose the best car carriers, you must be cautious. Before choosing an auto removal service, always look for signs that the company is respectable and legitimate. This implies that the company must have a physical address in the neighborhood, be registered and insured, offer trustworthy and useful car collection services, and have a phone number.
Auto Removal Service at Your Doorstep!
auto removal services offer free automotive disassembly without requiring travel. Your non-roadworthy scrap car is picked up by the service providers at your door. You don't need to take any action. Many auto removals in Melbourne provide free vehicle collecting services to save you from headaches.
The importance of auto removal services:
You are not required to give up your preferred vehicle. However, it's wise to discard anything that isn't necessary. Metal is often used to make automobiles. Dumping it will cause it to corrode and gather dust. The quality of the material may consequently deteriorate.
These materials can, however, be recycled. Thanks to recycling, many uses can be made of the same material. It also contributes to environmental cleanliness. Thus, if your car is essentially unusable and unsafe to drive, you can offer it to us. We'll recycle it and make new goods out of the parts.
Do you want to get rid of your old car?
It could be challenging to get rid of an outdated car. especially if it isn't in working order and you can't transfer it. Car logistics businesses can remove these repossessed or abandoned autos. Between Adelaide and Darwin, they can provide vehicle removal services.
Fast Auto Removal in Australia:
When buying or selling damaged or unroadworthy vehicles, people frequently feel hesitation. They don't want to deal with the hassle of towing the car to the junkyard. It is the most typical rationale for this. And in that circumstance, vehicle removal services prove to be the ideal choice. These companies haul cars away in addition to buying them for cash. Most of them offer vehicle towing whenever it is convenient for their clients.
They will look at the main advantages of using scrap removal services. If you considered these advantages, utilizing such scrap vehicle removal services would be justifiable. Using vehicle removalists is the best way to get rid of your old, trash cars and other vehicles. Additionally, working with a car wrecker helps you to do your part to reduce, recycle, and reuse for the benefit of the environment.
a. Vehicle Removal After an Accident
Despite the fact that your car was in an accident, the cost of repairs seems to be larger than the actual value of the car. Nothing to be concerned about! Any type of vehicle involved in an accident is removed by emu car carriers.
b. Taking away a damaged car
We will still remove the car for you even if it has been damaged by hail, water, or another disaster.
c. Vehicle Disposal
Whether the car is driving or has been parked in a garage. Just give us a call, and we'll decide to pick up your belongings from the location.
d. Disposal of Used Cars
Whether you just have an old automobile that you no longer need, or you want to sell your current used car to raise money for a new one. We will always remove interstate automobiles, so you can rely on us. The following vehicles may be taken off or, upon request, sold for cash:
Unwanted and undesirable automobiles
Vehicles with damage
Junk automobiles
Unwanted and used vehicles
Old automobiles
Our crew consists of professionals who are concerned about the environment. Cross-state car transfers are done. We try to handle your car efficiently, safely, and with as little detrimental environmental impact as possible. We are always ready for vehicle removal services. We make every effort to pick up your automobile on time. Our team is incredibly skilled and aware of how important your timetable is.
Melbourne Car Removal Company
It's simple to obtain Melbourne car removal facility from us. These could be delivered to a trustworthy auto wrecking company or an old parts warehouse to be used in another project. When an automobile is neglected and covered with dust, it corrodes and deteriorates, losing all its value. The result is that you must use interstate car removal company.
Do you wish to dispose of your old vehicle?
An old car could be difficult to get rid of, especially if you can't transport it and it isn't in operable condition. Such repossessed or abandoned vehicles can be removed by car logistics. You can get vehicle removal services in Perth and NSW also.
What is the significance of Auto Removal Service?
You are not compelled to get rid of your favorite car. But it's always a good idea to get rid of things that aren't necessary. Cars are frequently made of metal. If you dump it, it will collect dust and rust. As a result, the material's quality can degrade.
However, these materials can be recycled. The same material can be used in numerous ways thanks to auto parts recycling. Additionally, it helps to keep the environment clean. You can thus offer us your car if it is essentially useless and no longer safe to drive.
When is it appropriate to use an automobile removal service?
The following circumstances necessitate this service:
a. To make space in your garage.
when you need to make room in your garage because a used car is taking up space. You might need a vehicle removal and transport service in those circumstances.
b. To get rid of your corroded car
If you want to get rid of your rusted-out car quickly, removal services are the best option.
c. Towing a salvage car
If the vehicle isn't safe to drive, it will only pile up on your property. You need to get rid of it to make room. Contact us if you need this service.
d. Easy and quick removal
Car travel just requires a little amount of time.
e. You can cut costs!
In contrast, it is less expensive. As a result, you can save money.
f. Environmentally friendly
We dispose of your vehicle legally by using our sports vehicle removal services. Even when the car is damaged, the scrap metal is recycled. We also provide car transportation from Melbourne to Murray Bridge.
Why Choose Us?
When you hire emu car carriers to transport your vehicle, you make a good business choice. We assist residents with automobile removal services. We offer several benefits with our interstate flat car removal facility. We are quite knowledgeable about this sector. When you work with us you get the following advantages:
Cost reduction
Trustworthy Service
Easy and quick removal
Concern for the environment.
Dependable and prompt service
We accept vehicles of every make and model, and in any state.
Continually accessible with auto removal to almost all Australian suburbs
We reply to inquiries from clients. Our Logistics never takes its clients for granted. We are always thinking of innovative ways to fulfill our customers' requests for interstate car removal. When using whatever services they require, the customer always wants to feel safe. We also aim to provide extra services to our customers. We adhere to a few defined rules.
How to Request a Quote for a Car Removal Service in Australia?
Visit our website to verify our status as a reliable and responsive car shipping business. Check the legitimacy of the company you are working with and read reviews from previous clients. All that's left to do is fill out our "get a quote" form or call us.
Car Removal Services from emu car carriers!
We try to move your old vehicles safely and in conformity with all traffic laws. You can trust us for your auto hauling. We won't disappoint you. Contact us for the best car removal service in Australia!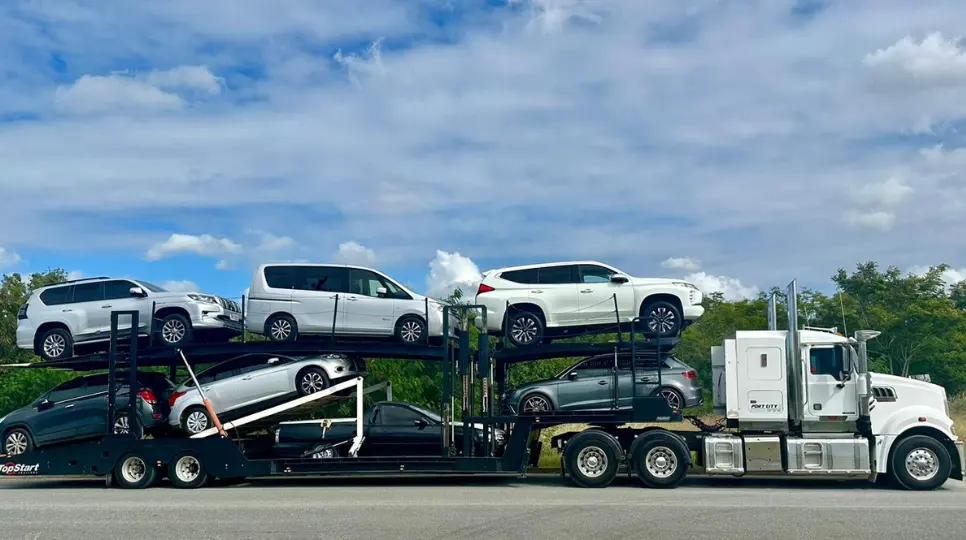 why choose us
Our customers trust us. They choose us because of Our:
Professional Team
Professional Team
Safe Vehicle Shipping
Our Cooperative Staff
Customer-focused Behavior
Positive Customer feedback