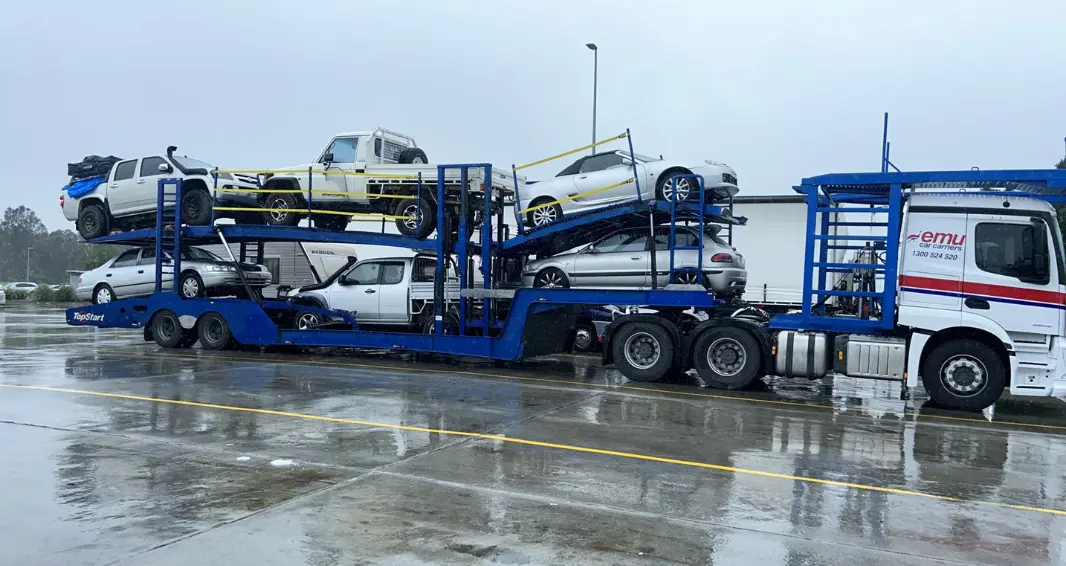 How Many Cars Fit in a Car Carrier?
Are you trying to find a reputable car carrier service in Australia to ship your car? Do you want to know how many automobiles an auto carrier can hold? What kind of vehicle carrier best suits your requirements?
In this blog post, we will look at the various types of vehicle carriers and how well they can transport cars. We'll also introduce you to EMU car carriers. It is one of Australia's top providers of car carrier services.
Types of Car Carrier
There are many different sizes and styles of a car carrier. Each is for a unique transport condition. Some trailers are small to make it simple to access challenging sites.
It is the cheapest car transport option available countrywide. whereas others are to transport up to 9 cars at once. Here are the types of automobile carriers used today on the roadway.
Specialized vehicles called auto carriers are to transport several cars at once. Open-air, enclosed, and flatbed vehicle carriers. These are a few of the several kinds of vehicle carriers that are offered.
Open-air car carrier:
Car movers that can accommodate up to 10 vehicles at once are open trailers. They are utilized for local transportation. These are more affordable than other types of carriers.
The cheapest method of moving cars is open-air auto transport. To lower the cost per individual vehicle. the carrier usually sends extra cars to locations close by or along the same route as yours.
Enclosed auto carriers:
A type of auto transport that offers extra security for autos is close car transport. If you need to export a luxury or classic car, this is a fantastic alternative. Only a small number of vehicles may often be transported in enclosed carriers. Usually no more than seven vehicles.
Car shippers that can accommodate up to six vehicles at once are close car carriers. They are used for long-distance transportation and provide protection from road debris.
Flatbed vehicle carriers:
A flatbed truck is a giant vehicle without sides or a roof around the bed and has a flat body. Transport for cargo that does not need the enclosure of a van. cannot be loaded, or unloaded from a pier, or does not fit within the dimensions of typical truck trailers. is known as flatbed shipping. Cranes and forklifts may load cargo onto flatbeds. from all sides due to their construction.
How many vehicles can be transported on a 40-foot flatbed trailer?
A standard 20-foot container can transport one or two automobiles or SUVs. while a 40-foot container can transport two to four mid-size vehicles. Trucks with flatbeds that can carry up to three vehicles at once are flatbed car movers. They are utilized to move bigger vehicles or equipment.
Number of cars that can fit in a car carrier
Depending on the kind and size of the carrier, a certain number of cars can fit within. The capacity of the carrier may also be impacted by the size and shape of the cars during transportation.
Open-air car haulers are a good choice for moving several vehicles. over a short distance because they can hold up to ten vehicles at once.
Cars need to be protected from the elements and other objects on the road. These can be transported in enclosed car carriers. It can hold up to 6 vehicles at once.
Flatbed car haulers are a good choice for moving bigger vehicles or machinery. Because they can hold up to three cars at once.
Introduction to EMU Car Carriers
With a variety of transportation services for both individuals and corporations. EMU is a reputable car carrier service provider in Australia. The company specializes in transporting automobiles across Australia. These consist of automobiles, trucks, and other types of vehicles.
Open-air, enclosed, and flatbed carriers are all part of the fleet of contemporary. well-kept trucks and trailers. operated by EMU Car Carriers. Skilled drivers drive the company's carriers. They are experts in handling various kinds of vehicles. They are outfitted with the newest safety measures.
Benefits of Choosing EMU Car Carriers
The following are the benefits of choosing EMU Car Carriers. for your car transportation:
Less concern and preparation
Saves time.
Protect your car!
Safer for your family and you
Reduces expenses for insurance.
Allows moving several vehicles.
Door-to-door delivery
Professionalism and dependability
Affordable prices and savings
Lower fuel expenses
Independent car transport in Australia is very expensive now. due to the status of the fuel sector. It's one thing to pay for fuel every day. But if you go more than a few hundred kilometers. This cost might be very upsetting.
Make sure everything is in order before deciding to do it alone. Because moving your car may end out being less expensive than filling it up and driving it. Auto shipping businesses deliver numerous autos to the same spot.
Move several cars at once!
Auto shipping businesses deliver numerous autos at the same time. This implies that the cost of paying the transportation service provider's wage and fuel charges will be shared by several customers. As a result, there is a decrease in price, which is advantageous to you as a client.
Dependable and Safe Transportation:
EMU Car Carriers take special care to carry your car in a secure and safe manner. Knowing how your car will travel to your location. while employing vehicle transport services is important. Vehicle transport service companies may have different terms and types of car carriers.
Competitive pricing:
EMU Car Carriers provide transportation services. At a price that is reasonable for individuals and enterprises. A simple choice for anyone wishing to move their automobile. EMU Car Carriers provide transportation services. to all major cities and towns around Australia.
Conclusion
A specific number of cars can fit inside the carrier, depending on its type and size. On open-air carriers, ten cars can be transported. 20 autos on flatbed carriers and up to 6 cars in enclosed vans.
The shipping company ships many vehicles using a single long-haul car transport truck. increasing its daily output. because it spends less money per vehicle shipped.
Hire EMU Car Carrier today!
By combining shipping orders from one location. most shipping companies may save gasoline expenses. When moving multiple cars over a shared transportation route to many destinations. this strategy works well. Contact us today to hire a car carrier service!